Best Dual Sport Helmet For The Money According To On and Off-Road Bikers (2022)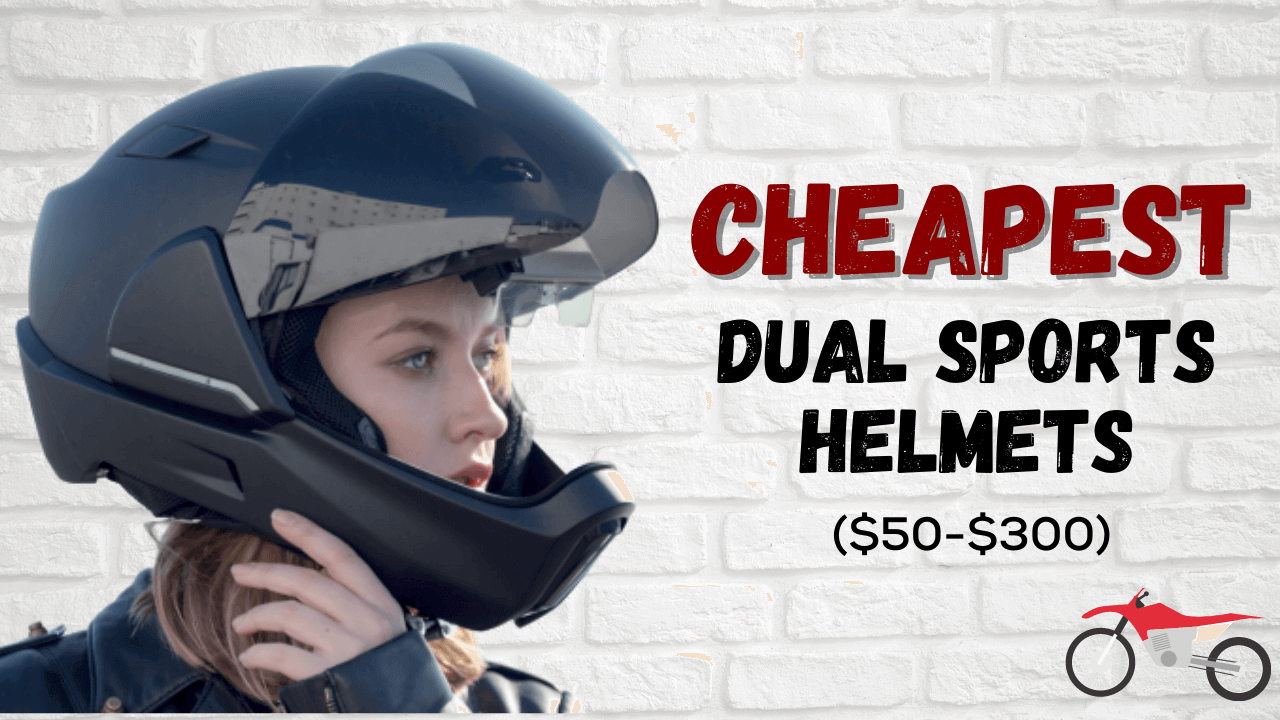 Not every motorcyclist has the budget to buy a quality dual sport helmet for their off-roading and street-driving needs… and we understand that!
If you want to purchase a new dual sport helmet, but the prices aren't affordable given your current budget – worry not, as we present you the best dual sport helmets that are surprisingly affordable against the high-end versions of adventure motorcycle helmets.


Hands-on tested for durability, perfect skull fitting, good ventilation, and safety – the below-listed helmets fall in a $100-$300 price bracket and offer the best value for money.
1). O'Neal 0817-504 Sierra II Helmet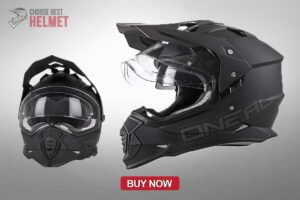 The O'Neal 0817 is something that is built to perfection – all thanks to its hardened ABS shell and the clear tinted face shield for UV protection. Priced at just under $150, this helmet could be your best partner for riding on both dirt and pavement terrains with an above-average feel.  O'Neal makes the 0817 in six different sizes, so motorcycle riders never face helmet-skull compatibility issues, while the inside liner is adorned with moisture-wicking and removable/washable fabric (good for hygiene-conscious individuals).
Read a detailed review about O'neal Sierra II
My Personal Experience with O'Neal 0817-504 Sierra II Helmet
The O'Neal 0817 is a good helmet for its price. It comes in all sizes and comfortably fits with no headaches, stress, or bobblehead effect even after a long day drive. On my testing, I felt it was a bit noisy on the highway. But apart from this, it is a pretty great dual sport helmet.
2). 1Storm Dual Sport Helmet Motorcycle
Featuring advanced Aerodynamic and DOT certified material, the 1Storm Dual Sport Bike Helmet ensures best-level protection against accidents as well as premium-quality comfort for the rider. Its Aerodynamic ABS shell is modified with stylish designs to reduce wind resistance force when driving at high speeds. And how can we forget to mention the oh-so-awesome eight ventilation holes with perfect air intake and exhaust adjustments? Priced at just under $60, this 1Storm Helmet is by far one of the best and cheapest picks on the market.
My Personal Experience with 1Storm Dual Sport Helmet Motorcycle:
As per my hands-on experience, it is a great helmet, especially for the price. Though at first, you may consider purchasing it to keep it as a spare I am sure after trying it on you, it will become one of your main favorites. Furthermore, it is DOT approved which means your protection isn't taken for granted. The only thing I disliked about this helmet is the tinted shield.
3). Bell MX-9 Adventure MIPS Dirt Helmet
This is a high-end helmet of this budget-friendly list but at $200, you are guaranteed to get more than your expectations. Bell MX-9 is as technologically advanced of an adventure helmet as you have always desired – for it features a lightweight polycarbonate shell construction with an MPIS energy management system. Plus, it comes in different sizes, and has two-point adjustable visors with air-intake vents; a removable clear shield with anti-scratch, anti-fog, UV protection; and meets DOT approved standards – all of which makes this product a stand out of the crowd.
Its features list is made more impressive; for it has an advanced velocity flow ventilation system and comes with a 5-year no-questions-asked warranty – some additional goodies that make it even more appealing for a bike rider.
My Personal Experience with Bell MX-9 Adventure MIPS Dirt Helmet:
I found this helmet pretty awesome with a great all-around fit. The part I loved about this helmet the most, is its very wide field of view, lots of ventilation, and easy-to-change lenses. If anything, this helmet was a bit noisy but overall quite safe and comfortable.
4). Scorpion EXO-AT950 Helmet
Ah… one of my top favorites, the Scorpion EXO-AT950. I call this dual-sport adventure helmet one of the most versatile inventions out there. With state-of-the-art manufacturing and astounding features – the company has magnificently re-defined what an adventure helmet can be with this innovative product.
It includes a progressed polycarbonate shell that comes in three unique sizes, double thickness EPS inward liner that is a multi-layer design, a lot of vents all through the helmet for optimal airflow, removable, and launderable inside, a drop-down sun visor, and dedicated speaker pockets.
Generally speaking, the Scorpion EXO-AT950 is an incredible lid. It comes DOT-standard-approved and with a 5-year guarantee. The way that it has a sensible sticker price of about $270 is what tops off an already good thing!
My Personal Experience with Scorpion EXO-AT950 Helmet:
I found the EXO-AT950 as one of the best modular dual-sport helmets. The headgear delivered an exceptional feel and build quality at an economical entry-level price. I tested it on a 6 hours long drive that included travel on both rough and smooth terrains, and believe me… I didn't face any bobblehead effect. Furthermore, the peak is easily removable which means one can wear the EXO-AT950 as a full-face helmet as well.
5).

HHH DOT ADULT Helmet
While it isn't my top choice, it gets an excellent review from most analysts. What it does well is that it offers an incredible fitting ADV top at a conventional cost. The highlights are not too bad including the huge front vent, decent wind flow, removable/washable interior pads, and a lightweight shell.
My Personal Experience with HHH DOT ADULT Helmet
HHH Dot Adult is one of the cheapest Dual Sport Helmets of 2020. It offers all the basic functionalities and features, however, it isn't as tough and durable as others on our list (but neither too low on quality). So, you can call it an average-quality helmet. For example, its visor does catch wind here and there, but it's not unbearable. Other than that, it is a super-nice helmet, very comfortable, and causes no pain when riding for hours.
What To Look For In A Dual Sport Helmet?
A Dual sport helmet for motorcycles requires a good deal of investment, therefore, special attention needs to be paid to the product's details before purchasing it. Though the above-listed helmets are personally tested by us and guarantee the best value for money, if you are in a manual quest for the best dual sport helmet – knowing what to look for in headgear can make a big difference in your purchase decision.
Look for DOT/ECE Certifications – Before purchasing any helmet, make sure it meets the quality standards approved by DOT or ECE. This ensures you are buying a real life-saver helmet, and not just a plastic crap with no durability.
Comfort – Obviously, you would be riding for hours. So make sure you buy a helmet that is comfortable to wear, features enough ventilation, and is lightweight for neck pain elimination.
Head Shape – Not everyone has the same skull dimensions and shape type. Therefore, buy the one that perfectly fits your skull.
Interior Liners – Interior cushioning gets smelly and dirty over time. Therefore, make sure you invest in a helmet that features a removable and washable liner for a clean, odor-free helmet every time.