Shoei RF-1200 Review – Is it Worth it? 2021 Edition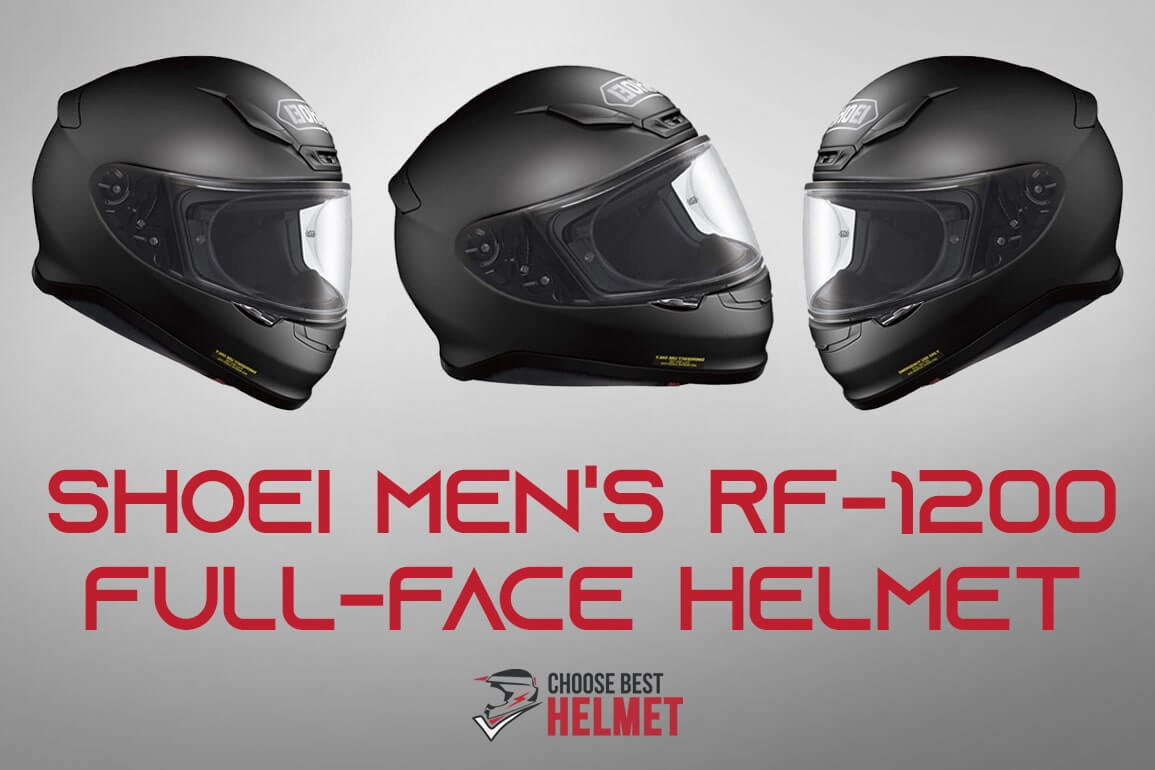 While searching for a helmet, evaluate your needs. If that's too much work, simply look into one of Shoei's helmets – they will not disappoint. Shoei RF-1200 is by far, the most well-known Japanese motorcycle helmet manufacturing company. 
The latest Shoei Men's RF-1200 is a flagship, high-end model that is specifically designed for the most extreme conditions. But it can be used for every-day use as well. A versatile helmet, it can endure any obstacle. The paint, finishing, and overall built quality of the RF-1200 made it quite unique. 
While we were testing RF-1200, we thoroughly checked it; the ins-and-outs. To us – it stood out in terms of weight, aero dynamicity, wind noise, and much more. Keep reading as we do a detailed breakdown of Shoei Men's RF-1200.
Remarkable Features of Men's Shoei  RF-1200
Durable

product. Prone to UV rays, hostile environments, and is water-resistant

Safety approved. RF-1200 has a

DOT

and

Snell

certification

Lightweight

and made compatible with

Multi-Ply Matrix AIM+ Shell

The interior padding has

3D Max-Dry System II

The exterior structure is made out of

Advanced Integrated Matrix (AIM)
Shoei CWR-1 Pinlock Shield

protects your eyes, giving a clear vision

Outstanding

customer support

from Shoei – contact them any time 

Bluetooth

can be added at both cover and cheek padding 

Visor has a

180 degree-like

view
Material: Is it Comfortable?
Well, yes. Considering that RF-1200 is lightweight and has a perfectly symmetrical shape, that makes it extremely comfortable to wear and even roam around with. The expanded polystyrene material makes it safe as well – protecting you from injuries and sunlight. 
With the 3D Max-Dry System II, the interior of the helmet is as comfortable as it can get.  RF-1200 is recommended for hot climates. The nylon construction of the inner-liner keeps the head cool throughout the ride.  
Visibility and Ventilation
You can't go wrong with visibility and a Shoei product. Nearly all of Shoei's helmets have clear, optically optimized visors. RF-1200 continues the legacy and works efficiently as others. Along with providing an illusional 180-degree long vision, the shield automatically adjusts to the environment.
RF-1200 has four air vent outlets which aren't that bad, it is tolerable. Honestly, we expected more in this aspect. The lack of proper insulation makes the helmet a bit unbearable for highway rides, or any long noise-polluted area. But the airflow is controllable. Adjust the four vents, slide it any time. 
Our Final Thoughts
Another solid edition by Shoei, RF-122 definitely makes it to the list. By the list, we mean the top 5 motorcycle helmet options.  If you're looking for a feature-packed helmet that will last for a long time – Shoei RF-1200 is the recommended one. 
A heads-up though. RF-1200 has a narrow look, see if that fits you. And if it doesn't, use replaceable stock paddings. That's the best fact about Shoei RF-1200, it is customizable.